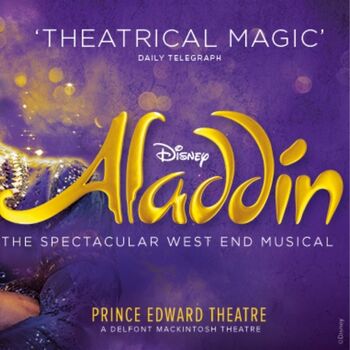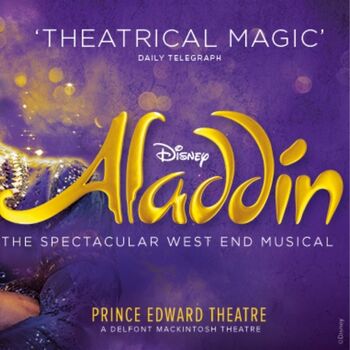 It's Aladdin.... but a Musical.
How long does Aladdin Last for?
Does Aladdin have any age restrictions? 7+
Does Aladdin have an interval? Yes
Seen by 15 fans
73.0
27.0
Where is Aladdin playing?
Aladdin currently has no current or future productions scheduled
Use the button above to add it to your followspot and be notified when something is announced.
What they loved
The costumes - phenomenal! The Genie - amazing!
Great performances, classic songbook
Music was great, production and costumes were bright and colourful, cast were fantastic.
Beautiful sets, clever techniques, genie was insanely good, catchy and familiar, upbeat and entertaining
Genie was great - show should have been about him.
What not to like about any disney show? It fun, funny, music great, costumes and set is amazing and of course songs we all love to sing Loud with a smile on our faces. It a show that you leave with a big smile on your face and that flying carpet scene WOW
I liked seeing the disney charcacters on stage and i loved the flying carpet. It was an amazing experience
Beautiful production values
Fun musical
The Genie was the standout performer, inside the cave of wonders was spectacular
Seen by 15 fans
73.0
27.0
Wishlists |
4
Avg. Rank
25th
What they didn't enjoy
Too panto-like
The end felt rushed, too much time devoted to the start of the aladdin story
Felt a little bit 'panto' in places.
Not on par with other disney on stage productions
The ending was rushed.
I think everything was amazing
Let down by the actor playing Aladdin, totally overshadowed by Jasmine
Genie overshadowed the rest of the cast, it should have been a 'Wicked' style, origin story of the Genie, otherwise it felt like a pantomime with a budget in the millions.
Aladdin Discussions
| Title | Posted by | Replies | Last reply |
| --- | --- | --- | --- |
| | | 0 | 7 months ago |
| | | 0 | 7 months ago |