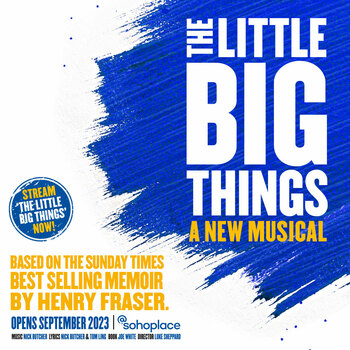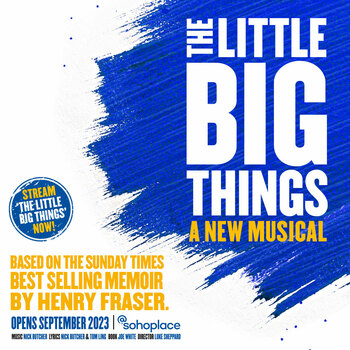 An extraordinary true story about an ordinary young man. When one moment changes everything, Henry finds himself split between a past he no longer recognises and a future he can't even begin to imagine. As he learns to navigate this new world, can he find a way to take control of his life, and keep his family from falling apart? Based on the Sunday Times best-selling autobiography by Henry Fraser, The Little Big Things is a new British musical with an explosive theatrical pop soundtrack in a world premiere production. This uplifting and colourful new musical is a life-affirming story of courage, transformation and a reminder that it's the little things that really do matter the most.
How long does The Little Big Things Last for?
Does The Little Big Things have any age restrictions? +
Does The Little Big Things have an interval? Yes
Seen by 3 fans
100.0
0.0
Where is The Little Big Things playing?
The Little Big Things currently has 1 current production
02 September 2023 - 02 March 2024
02 September 2023 - 02 March 2024
What they loved
Beautifully staged and wonderful cast. Well written dialogue and characters
Made me both laugh and cry a lot. A lovely show with a great staging.
Seen by 3 fans
100.0
0.0
Wishlists |
1
Avg. Rank
17th
What they didn't enjoy
I didn't quite get the same emotional reaction as the majority of the audience. The "plot" could have been written on the back of a postage stamp and while the songs were lovely, they didn't serve to move anything forward and it became repetitive. I kept being told "the less you know going in, the better", but nothing was surprising and while it's a true story, it's not exactly an original one
The Little Big Things Discussions
No posts have been made yet.