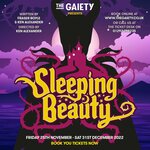 Sleeping Beauty: Pantomime at The Gaiety Theatre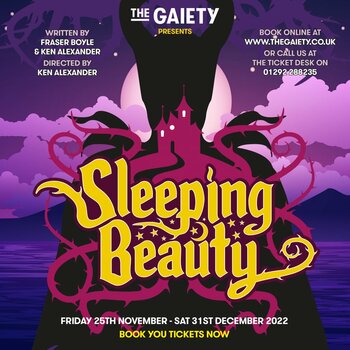 November 2022 until December 2022.
The Kingdom of Ayrshire and Arran awaits the return of its Princess and future Queen after eighteen years in exile. The Castle and everyone it in have been prisoners of the Curse of the wicked sorceress Carabosse, Bride of Maybole, who wants the throne all to herself – she's got a pet dragon waiting in the wings to back her up claim! Only true love can break the spell – but with the Princess Aurora in hiding and a Prince not keen on marrying someone he's never met; how can the Kingdom be saved? Can Bella, the Arran Fairy, overcome confusions about her name and protect the land from evil? Will faithful servant Briar Rose ever be able to leave the Castle and travel the world? Will Nanny McCuddles have a new baby to look after or will she retire to Benidorm? And will that wee joker, Jimmy Jester, ever hold down a proper job? Come see the Gaiety pantomime this Christmas and discover that there's no one more powerful than a girl who trusts her own heart.
Runtime:150 minutes
Recommended Age: 0+
This production has finished, but would you like to know when Sleeping Beauty: Pantomime announces another?
Sleeping Beauty: Pantomime Cast
Sleeping Beauty: Pantomime Creative
We currently have no creative listed for this production, as soon as we have this information we will update the listing (if you have this information, please Login and
submit a revision
).