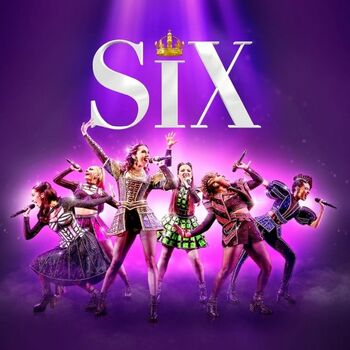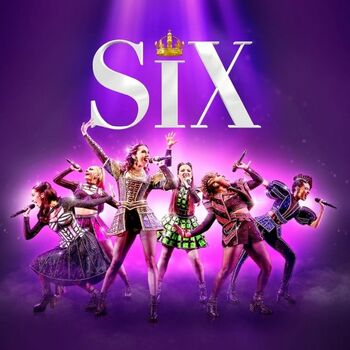 Divorced, beheaded, died, divorced, beheaded, survived. All this time They've been just one word in a stupid rhyme So they picked up a pen and a microphone History's about to get overthrown.
How long does Six Last for? 80 Minutes
Does Six have any age restrictions? 7+
Does Six have an interval? No
Seen by 28 fans
100.0
0.0
Where is Six playing?
Six currently has 2 current productions
29 September 2021 - (no closing date announced)
29 September 2021 - (no closing date announced)
December 2021 - September 2024
| | | |
| --- | --- | --- |
| 14 Dec - 9 Jan | The Lowry, Salford | View Venue |
| 11 Jan - 22 Jan | Theatre Royal, Newcastle | View Venue |
| 25 Jan - 30 Jan | Orchard Theatre, Dartford | View Venue |
| 1 Feb - 5 Feb | Grand Theatre, Wolverhampton | View Venue |
| 7 Feb - 12 Feb | Marlowe, Canterbury | View Venue |
| 15 Feb - 19 Feb | Royal & Derngate, Northampton | View Venue |
| 22 Feb - 26 Feb | Theatr Clwyd, Mold | View Venue |
| 1 Mar - 12 Mar | Yvonne Arnaud Theatre, Guildford | View Venue |
| 15 Mar - 26 Mar | Festival Theatre, Edinburgh | View Venue |
| 29 Mar - 2 Apr | Grand Theatre, Leeds | View Venue |
| 5 Apr - 10 Apr | New Theatre, Hull | View Venue |
| 12 Apr - 16 Apr | Empire, Liverpool | View Venue |
| 19 Apr - 30 Apr | Lyceum Theatre, Sheffield | View Venue |
| 3 May - 14 May | Wales Millennium Centre, Cardiff | View Venue |
| 17 May - 29 May | Rose Theatre, Kingston Upon Thames | View Venue |
| 31 May - 5 Jun | Congress Theatre, Eastbourne | View Venue |
| 7 Jun - 12 Jun | Mayflower Theatre, Southampton | View Venue |
| 14 Jun - 19 Jun | Theatre Royal, Glasgow | View Venue |
| 22 Jun - 2 Jul | Everyman Theatre, Cheltenham | View Venue |
| 5 Jul - 9 Jul | Storyhouse Theatre, Chester | View Venue |
| 12 Jul - 16 Jul | Waterside Theatre, Aylesbury | View Venue |
| 19 Jul - 23 Jul | Theatre Royal, Brighton | View Venue |
| 26 Jul - 31 Jul | Theatre Royal & Royal Concert Hall, Nottingham | View Venue |
| 2 Aug - 14 Aug | The Lowry, Salford | View Venue |
| 17 Aug - 21 Aug | Grand Opera House, Belfast | View Venue |
| 23 Aug - 27 Aug | Millennium Forum Theatre, Londonderry | View Venue |
| 30 Aug - 3 Sep | Winter Gardens, Blackpool | View Venue |
| 6 Sep - 11 Sep | Hall for Cornwall, Truro | View Venue |
| 14 Sep - 18 Sep | Cliffs Pavilion, Southend-on-Sea | View Venue |
| 20 Sep - 24 Sep | Hippodrome, Bristol | View Venue |
| 27 Sep - 2 Oct | Belgrade Theatre, Coventry | View Venue |
| 4 Oct - 8 Oct | Wyvern Theatre, Swindon | View Venue |
| 11 Oct - 16 Oct | Grand Opera House, York | View Venue |
| 18 Oct - 22 Oct | Swansea Arena, Swansea | View Venue |
| 25 Oct - 29 Oct | Malvern Theatre, Malvern | View Venue |
| 1 Nov - 5 Nov | Alhambra Theatre, Bradford | View Venue |
| 8 Nov - 12 Nov | Eden Court, Inverness | View Venue |
| 15 Nov - 20 Nov | Regent Theatre, Stoke-on-Trent | View Venue |
| 29 Nov - 3 Dec | Milton Keynes Theatre, Milton Keynes | View Venue |
| 6 Dec - 8 Jan | Liverpool Playhouse, Liverpool | View Venue |
| 17 Jan - 21 Jan | Theatre Royal, Plymouth | View Venue |
| 24 Jan - 29 Jan | Orchard Theatre, Dartford | View Venue |
| 31 Jan - 5 Feb | New Victoria Theatre, Woking | View Venue |
| 7 Feb - 12 Feb | Globe Theatre, Stockton-on-Tees | View Venue |
December 2021 - September 2024
| | | |
| --- | --- | --- |
| 14 Feb - 25 Feb | Cambridge Arts Theatre , Cambridge | View Venue |
| 28 Feb - 4 Mar | Hippodrome, Birmingham | View Venue |
| 4 Apr - 8 Apr | Bord Gáis Theatre, Dublin | View Venue |
| 11 Apr - 15 Apr | Grand Opera House, Belfast | View Venue |
| 18 Apr - 23 Apr | Wycombe Swan, High Wycombe | View Venue |
| 25 Apr - 29 Apr | Assembly Hall Theatre, Tunbridge Wells | View Venue |
| 2 May - 6 May | Playhouse, Edinburgh | View Venue |
| 9 May - 13 May | His Majesty's Theatre, Aberdeen | View Venue |
| 16 May - 21 May | Theatre Royal, Norwich | View Venue |
| 23 May - 28 May | New Theatre, Hull | View Venue |
| 30 May - 4 Jun | New Theatre, Oxford | View Venue |
| 6 Jun - 11 Jun | New Theatre, Peterborough | View Venue |
| 13 Jun - 18 Jun | Curve Theatre, Leicester | View Venue |
| 20 Jun - 25 Jun | Hippodrome, Birmingham | View Venue |
| 27 Jun - 2 Jul | Grand Opera House, York | View Venue |
| 4 Jul - 8 Jul | Theatre Royal, Newcastle | View Venue |
| 11 Jul - 15 Jul | Winter Gardens, Blackpool | View Venue |
| 18 Jul - 23 Jul | Opera House, Manchester | View Venue |
| 25 Jul - 29 Jul | Mayflower Theatre, Southampton | View Venue |
| 1 Aug - 5 Aug | Grand Theatre, Leeds | View Venue |
| 8 Aug - 12 Aug | Wales Millennium Centre, Cardiff | View Venue |
| 14 Aug - 26 Aug | Theatre Royal, Bath | View Venue |
| 29 Aug - 3 Sep | Theatre Royal, Glasgow | View Venue |
| 11 Oct - 15 Oct | Kings Theatre, Portsmouth | View Venue |
| 24 Oct - 28 Oct | The Embassy Theatre, Skegness | View Venue |
| 14 Nov - 18 Nov | Princess Theatre, Torquay | View Venue |
| 21 Nov - 26 Nov | Theatre Royal & Royal Concert Hall, Nottingham | View Venue |
| 28 Nov - 2 Dec | Royal & Derngate, Northampton | View Venue |
| 5 Dec - 9 Dec | Regent Theatre, Stoke-on-Trent | Book Tickets! |
| 19 Dec - 6 Jan | Theatre Royal, Brighton | Book Tickets! |
| 9 Jan - 14 Jan | Swansea Arena, Swansea | Book Tickets! |
| 16 Jan - 21 Jan | Cliffs Pavilion, Southend-on-Sea | Book Tickets! |
| 23 Jan - 28 Jan | Waterside Theatre, Aylesbury | Book Tickets! |
| 30 Jan - 10 Feb | Everyman Theatre, Cheltenham | Book Tickets! |
| 13 Feb - 17 Feb | Venue Cymru, Llandudno | Book Tickets! |
| 20 Feb - 24 Feb | Theatre Royal, Norwich | Book Tickets! |
| 27 Feb - 3 Mar | Grand Theatre, Wolverhampton | Book Tickets! |
| 5 Mar - 9 Mar | Marlowe, Canterbury | Book Tickets! |
| 2 May - 12 May | Curve Theatre, Leicester | Book Tickets! |
| 28 May - 1 Jun | Grand Theatre, Leeds | Book Tickets! |
| 18 Jun - 22 Jun | Hippodrome, Birmingham | Book Tickets! |
| 10 Jul - 14 Jul | Churchill Theatre, Bromley | Book Tickets! |
| 16 Jul - 20 Jul | Mayflower Theatre, Southampton | Book Tickets! |
| 13 Aug - 1 Sep | The Lowry, Salford | Book Tickets! |
What they loved
Everything - constantly playing in my home
I laughed, I cried, I went home and booked more tickets! Love this show. It's one of a kind, no category.
The music was fantastic and an all female cast was fresh to see
Really original concept, great music and costumes
The actors were real nice and one said my crown was cute and she did a heart at me and i loved all of the songs and i danced at the end and i loved it all
From start to finish, a massive party with songs that get stuck in your head on repeat. Also love how you can officially record and take photos at the end of the show.
70 minutes of pure brilliance
it's incredible, i loved every second of i, leesa as boleyn #scotland
Costumes, Anne Bolyen
BRILLIANT SHOW. CAN'T WAIT TO GO BACK AGAIN
The show was brilliant well put together, great performances from what we could hear, good engagement with the crowd and funny moments
The energy, the songs, the emotions
Brilliant songs, perfectly capturing target audience
Punchy, vibrant, fresh, original, engaging
Seen by 28 fans
100.0
0.0
Wishlists |
20
Avg. Rank
8th
What they didn't enjoy
Nothing it was perfection
Nothing
A bit short - the run time is a straight run through, no interval
nothing!!!!!
we want more!
slightly too short
We came out of the show a bit deflated as the other members of the audience sang so loudly we couldn't enjoy the show the performance should tell people not to sing a long if it isn't a sing a long performance
Not enough, really got into it
Six Discussions
| Title | Posted by | Replies | Last reply |
| --- | --- | --- | --- |
| | | 2 | almost 2 years ago |